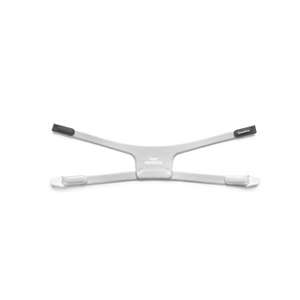 DreamWisp Nasal Mask Headgear
Details
This is the replacement headgear for the DreamWisp Nasal CPAP Mask.
This 4 point style headgear secures to the DreamWisp frame by using magnetic clips at the bottom, and slotted sections at the top-side of the frame.
The headgear can be adjusted with velcro, which is located at all 4 points.
Included in your package:
One headgear
Product Specs
| | |
| --- | --- |
| Ports Cap | Polycarbonate |
| Cushion | Polycarbonate |
| Forehead Pad | Polycarbonate |
| Headgear Foam Layer | Polycarbonate |
| Headgear Loop | Polycarbonate |
| Headgear Underside Fabric | 15% PTFE in Polycarbonate |
| Fastener Tabs | Silicone Elastomer |
| Cloth Label | Silicone Elastomer |
| Vent Cover | Silicone Elastomer |
Documents & Videos for the DreamWisp Nasal Mask Headgear